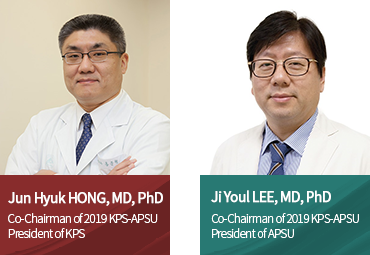 Dear Delegates and Friends,
The Korea Prostate Society(KPS) and Asia Pacific Society of Uro-oncology(APSU) will host 2019 KPS-APSU Joint International Symposium under the theme of 'The most up-to-date knowledge of prostate, kidney and bladder cancer management' during September 6 - 7, 2019 at HIT 6F, Hanyang University, Seoul, Korea. The Scientific Program will cover all aspects of Urologic Oncology & Prostate Disease, and the sessions will be full of presentations on latest innovations.
Both Societies have been building professional bonds throughout the Asia-Pacific region for well over a decade, and this up-coming event, as a turning point of both Societies, will provide a new venue for the most up-to-date knowledge of Urologic Oncology & Prostate Disease. The Organizing Committee hopes that 2019 KPS-APSU serves as a major scientific event for the concerted research and exchanges among KPS and APSU members.


We look forward to welcoming you to this meaningful event!